About the Octopus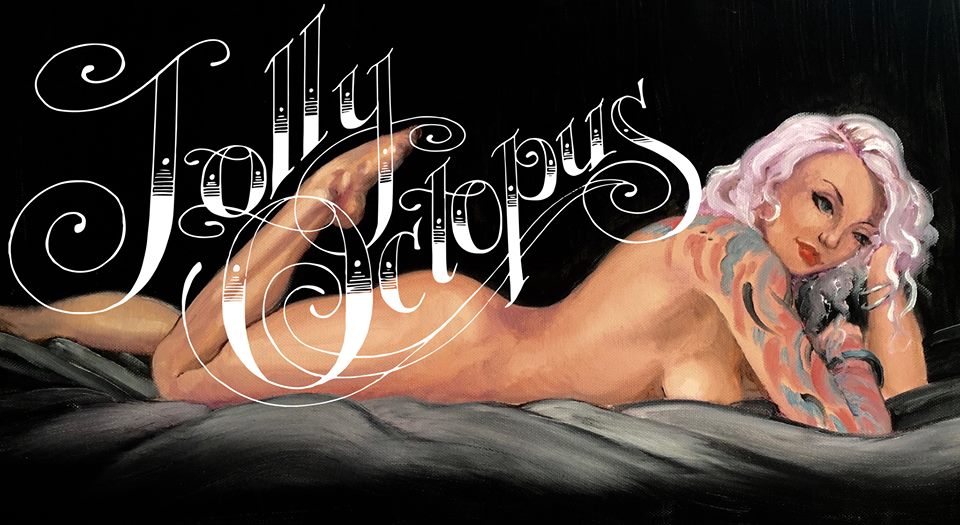 The Jolly Octopus
Great Art. Great Memories. A Different Kind of Tattoo Studio.
Imagine your perfect tattoo. Is it bright and colorful? Black and gray? A pinup tattoo? A portrait? Whether your tattoo is big or small, from a full sleeve or full back to something little on your wrist or ankle, our talented tattoo artists can create it for you, and we will make your tattoo look fantastic.
High quality tattoos. Great experiences. That's what the Jolly Octopus is all about.
We have a great team of creative artists. We all inspire each other, learn from each other, and have a great time doing the best job in the world. It's a wonderful atmosphere, all that talent, and it makes for a wonderful tattoo environment.
Every time you look at your tattoo, you won't just see the art. You'll also remember the day. Our artists are a relaxed and friendly bunch who want your memories to be happy ones.
We want you to love the art you wear. And every time you look at it and remember, we want you to smile.
For beautiful art, check out the galleries. For the experiences, just listen to our clients:
"Very understanding and they all make sure your privacy is important. They make you laugh and make you feel very at ease. So if you want a good experience go to the Jolly Octopus ??" - Vinka B.
"A fantastic place with great friendly professional staff." - Elise M.
"I'm not sure you'll find a closer, more friendly group of people in any business. I've been twice to get work done and have always been superbly happy with the results! Both Sebastian (who did line work on my arm) and Steve (who did my star wars tattoo on their charity day) were professional and both larger than life personalities. Definitely coming back to get my forearm finished!" - David K.
"Awesome session with scott on tuesday, absolutely stoked with my piece, looks amazing!!!" -Dion C.
"Friendly staff and great atmosphere. Thanks Sebastian for my beautiful new tattoo I am extremely happy with it ?" - Sequoia P.
"Amazing experience at this tattoo shop! They can handle anything you give them including cover ups. Extremely talented artists in a friendly environment... you can't beat that." - Thomas G.
"Its been quite a while since I was tattooed last, but now I am continuing my addiction. The Jolly Octopus is full of talented and friendly staff who are helpful with creating designs and ideas. Steve has exceeded my expectations on several occasions now, the first time with Chucky, which confirmed I had chosen the right tattoo artist and studio to continue with my other ideas. The second was with a Grim Reaper cover up, and now that its finished, one wouldn't realise that it is a cover up. Steve has great aptitude for detail and colour matching, and I highly recommend him and his staff at The Jolly Octopus if you are looking for flair as I have since returned for several more." - Robin R.
"I am so pleased with my new tattoo, the flying cherry from the fundraiser." - Sandra B.
"Just been in with my daughter to get her piercing. I don't handle anything squeamish well and the guy on the front desk was so interesting to talk to I felt comfortable staying while she went in to get it done. I felt good about her being in safe hands too and was so happy when she came out in one piece looking happy. Thank you guys we will be back and recommending you to everyone!!!!" - Katrina B.
"My friends and I went to get a tribute tattoo for a best friend we lost, Chloe, Sebastian and all the staff were so kind and really listened to what we wanted. Thanks Chloe and Sebastian for our special tattoos for our special friend :)" - Courtney P.
"Had a tattoo completed today, as did my partner Jocelyn Baker, by Sebastian Williams. Absolutely love the tattoos. Awesome work by a sensationally talented artist. Would highly recommend Sebastian. Great job my friend. Definitely will be back.????" -Laurie C.
"Scott did an awesome job on our tattoo's "Metallica Rules"!!" - Terrie-Anne R.
"Highly highly recommend?? My tattoo turned out 100% perfectly! The atmosphere is so welcoming and lovely!! Lil is amazing!! Definitely coming back for my next one" - Courtney W.
"I came in today to get a bird fixed up and may I say I left in tears from how beautiful it turned out. Sebastian did an incredible job and I was so thrilled and finally happy with the tattoo. Everyone was lovely and approachable and it was such a chill and fun vibe to be getting tattooed in. Definitely coming back." - Kayla E.
"Steve was very patient and thoughtful as well as a superb artist. Go there now!" - Karen E.
"Awesome peeps with a wicked sense of humour and would/will reccomend to anyone :)" - Jackie D.
"Love the guys at the jolly octopus. Great atmosphere and professional. And now Sebastian is there it's even better ?. Will see you tomorrow ?"
"Really happy with the work Steve did on my arm. I went to a few different places before a friend recommended Steve, I instantly felt comfortable and knew he would come up with something amazing and he did! Thanks Steve i will be back :)" - Amanda L.
"Tattoo ed my wife on both half upper same sleeves and a large oak tree still to go back to be finished but just waiting for the birth of our first son on Monday at star ship Auckland as he is our wee heart warrior so as soon as he is all better from his surgery and my wife is back in Christchurch she will be in to add to her back
Steve is the nicest and best tattoo guy to go to I might even get him to do something on my virgin skin even though I have always said I would never get a tattoo but if I did I would only get Steve to do it
cheers mike" - Mike T.
"Awesome experience ... I will be recommending this place to all that I know ..And will be back for more!" - Jacinda B.
"Reasonably fast, and Sebastian has an amazing eye for detail. My partner and I have come back again, and will continue to do so in the future. I would absolutely would recommend The Jolly Octopus to anyone, first timer or seasoned." -Charles K.
"Had a tattoo done by Maki today and it was the gentlest tattoo I've ever had -- wonderful experience! Barely felt a thing. If I am ever back in NZ, I would definitely come back again." - Juliet J.
"Absolutely amazing work by Steve! Have travelled down from Wellington a couple of times since moving to have work done! I still get comments from strangers about how amazing the Cinderella on my leg is 5 years after getting it done. And I love my latest from last trip - Buffy on my other leg!" -- Amanda C.
"Only place I'll ever go, be it getting tattooed or pierced." -- Jo S.
"Awesome place! After having 2 friends highly recommend The Jolly Octopus to me, I booked in for my 3rd tattoo, Steve was lovely and so helpful. I'll definitely be back! Super friendly, super cute place, great prices and quality!" --Missy L.
"Love the jolly octopus, and I love Steve and his work. 10/10 x" -- Carrington L.
"Chloe and Steve and the crew are wicked and can turn ideas into masterpieces. I don't go anywhere else for my ink or piercings, and they are genuinely brilliant people. I recommend The Jolly Octopus to everyone! :)" --Caitlin H.
"Thank you so much for my beautiful tattoo by Maki and for the amazing service by everyone. I've literally never been into a tattoo parlor where the staff have been so friendly and welcoming. It was such an awesome experience :)" - Aimes C.
"Such an incredible team! I've seen Steve and Jesika and they are both amazing lovely people. I am not the biggest fans of needles and I was so nervous about getting a piercing. However these guys made me feel so comfortable and relaxed with such a chill environment. Thank you so much guys. Fully would recommend these guys to anyone!" -- Tess B.
"Omg I am absolutely in love with my tattoo!! Thankyou so much Hazel!!" - Cerise K.
"Steve is a great artist. I got 3 tattoos in the space of 2 weeks and am working on my next. My husband got 1 during that side too and he is working on his next. My sister is booked in now too. Great place, great people, and amazing, fantastic tattoos! Thanks for "Fred & Ginger" Steve." -- Pam J.
"I am terrified of needles. Terrified. So terrified in fact that I have been known to faint before even reaching the tattoo shop or doctors rooms. Pathetic I know. However, the day I walked into the jolly octopus after making my appointment only 10 mins prior and fluking a gap in Steves busy day I was immediately calmed and distracted by the lovely Steve. I was awed by how professional, hygienic (his disposable glove costs must be huge) and friendly he was. No fainting was done, and I even laughed during the session numerous times. Overall a very very very good experience and I hope to return for another tattoo one day soon." --Amie D.
"No regrets. Chloe did my first ever tat(s) absolute justice. This girl has talent oozing out of her pores. She took my original concept & combined it with the styles i liked, resulting in ink i will happily take to the grave. Thanks gurl, I'll be back ;-)" --Bronwyn J.
"Steve did an amazing job, covering up a shitty 17 year old tattoo ,and hypertrophic scaring! All done in one 6 hour sitting! Deffo heading back soon for more. Reccomend to anyone! Also saw one of chloes clients after she had one done..also amazing. So much talent in one shop." --Steph S.
"Steve is a genuine genius, he's done basically all my work and I love every part. Can't wait to finish my arm and get one of his world famous Pin Up Girl tattoos." --Troy O.
"I absolutely love them. Everyone is so welcoming and lovely. Being tattooed by Chloe is always an amazing time and I absolutely love her work" --Steph M.
"Steve done a amazing job at covering up some stupid young tattoos i got, very friendly and such a laugh, will be coming back and booking after full day with steve soon." -- Manda E.
"Chloe deBoo thankx so much for the tattoo u did at Armageddon .it's crazy gud I love it so much." --Simone S.
"This place is my new fav tattoo shop and Steve did an amazing job on my tattoo! And is super friendly , just got my card from you guys in the mail today and it's so sweet ? I will defiantly be back for more ! Thanks for my Dva I love her!" - Lauraa B.
"Got my hand tattoo there today,great piece of art,Steve is so easy going ,can't wait to go back...Cheers steve" --Dean S.
"Amazing place, great staff and wasn't painful at all!" --Meg C.
"Steve turned a dull tattoo Into a tattoo I absolutely love, get so many compliments thank you and I highly recommend a+" --Holly L.
"Professional, friendly, makes you feel welcome, talkative and you feel comfortable, and great work ! Got a few tattoos and pericings done, and was very pleased with everything!
Sucks your leaving steve, who will tattoo me now ! Lol thank you :)" --Sarah I.
"I got my first tattoo recently from Chloe (I hope I spelt your name right) absolutely love it highly recommend her and will definitely be back for more. Everyone comments about how neat and clean my tatt is so thank you." --Bev D.
"I got a Vegvesir compass tattoo from Maki and I love it so much, super clean and very well done. Super happy with my first tattoo and very impressed with the professional and friendly atmosphere. It was also extremely easy to organise a booking time, no muck around whatsoever, very professional. Would definitely recommend for first timers!" - Vienne N.
"Will never ever go to another tattoo artist, steve you are amazing! So stoked with my tats and I can honestly tell you, we are moving to the north island in the next couple of years but when I am wanting to get another one I am flying back down to come get it done by steve!" --Caity L.
"Steve was so great! He made me feel so comfortable before, during and after my piercings and my tattoos! Will definitely be going back and recommending him to others!" - A
"Easily 5 stars. Eagle, trees, watercolor (kind of). Thanks Chloe ;)" --Marc S.
"Got 2 ear piercings done today by Jess. They have an immaculate setup, really friendly staff and provide awesome service. I wouldn't go anywhere else!!! Jess is the best !!" - Katey F
"Really enjoyed working with Chloe, great work great result, will be coming back for something GOT eh" -- Mark B.
"Jess did such an awesome job with my diath piercing, that I went back for a second ear piercing from her! She was so helpful and patient with answering my questions, and I loved her enthusiasm for her job." - Jamie B.
"Great work. Lovely artists. Perfect! I will definitely be back." --
"Great experience :) thanks" --Anna L.
"Chloe is an amazing tattooist, I love my tattoo! For a first tattoo she talked me through it and it was great!" --Keileigh T.
"So very pleased with the outcome, came all the wat from Perth to get my second tattoo fro Steve,
Would recommend to anyone." --Carl M.
"Steve did an amazing job at a cover up and has set expectations so high for any future tattooists." --Lauren A.
"Amazing!! Steve is incredible at his craft and I have been recommending to everyone thinking of being inked. I'll definitely be back at some stage for more!" --Dee B.
"Steve is amazing!!! Went in to get quite a sensitive piercing, and was instantly put at ease and felt very comfortable. I highly reccommend for any piercings. Very reasonably priced and professional." --Hannah C.
"Awesome experience ... I will be recommending this place to all that I know ..And will be back for more!" -Jacinda B.
"Chloe and Steve are the coolest, and extremely talented. Would recommend."
"Had a tattoo done by Maki today and it was the gentlest tattoo I've ever had -- wonderful experience! Barely felt a thing. If I am ever back in NZ, I would definitely come back again." - Juliette J.
"Went in and Steve said he'd turn my cap dragon into a good dragon. Finished result is amazing definitely the guy to go to." --Jeremy G.
"Steve is an amazing artist. Extremely pleased with the outcome. I will be in touch very soon to book in my next piece." --Tony G.
"Thanks Steve , you did a great job looking after a old girl like me having her first tattoo Thanks again I love it :)" --Joanne B.
"The proof is in the pudding......and I gots me some tasty tasty puddin'." --Heidi C.
"Beautiful work done by Steve, a really talented man , thankyou very much." --Rachel B.
"Steve is amazing!! Knows his stuff and is so patient. Check him out." --Caitlin E.
"Awesome environment to get a tat or piercing done, wicked talented ppl and super clean.. would def recommend." --Stephanie R.
"Steve amazing he does a great job" --Julie K.
"Steve is so talented!" --Mike P.